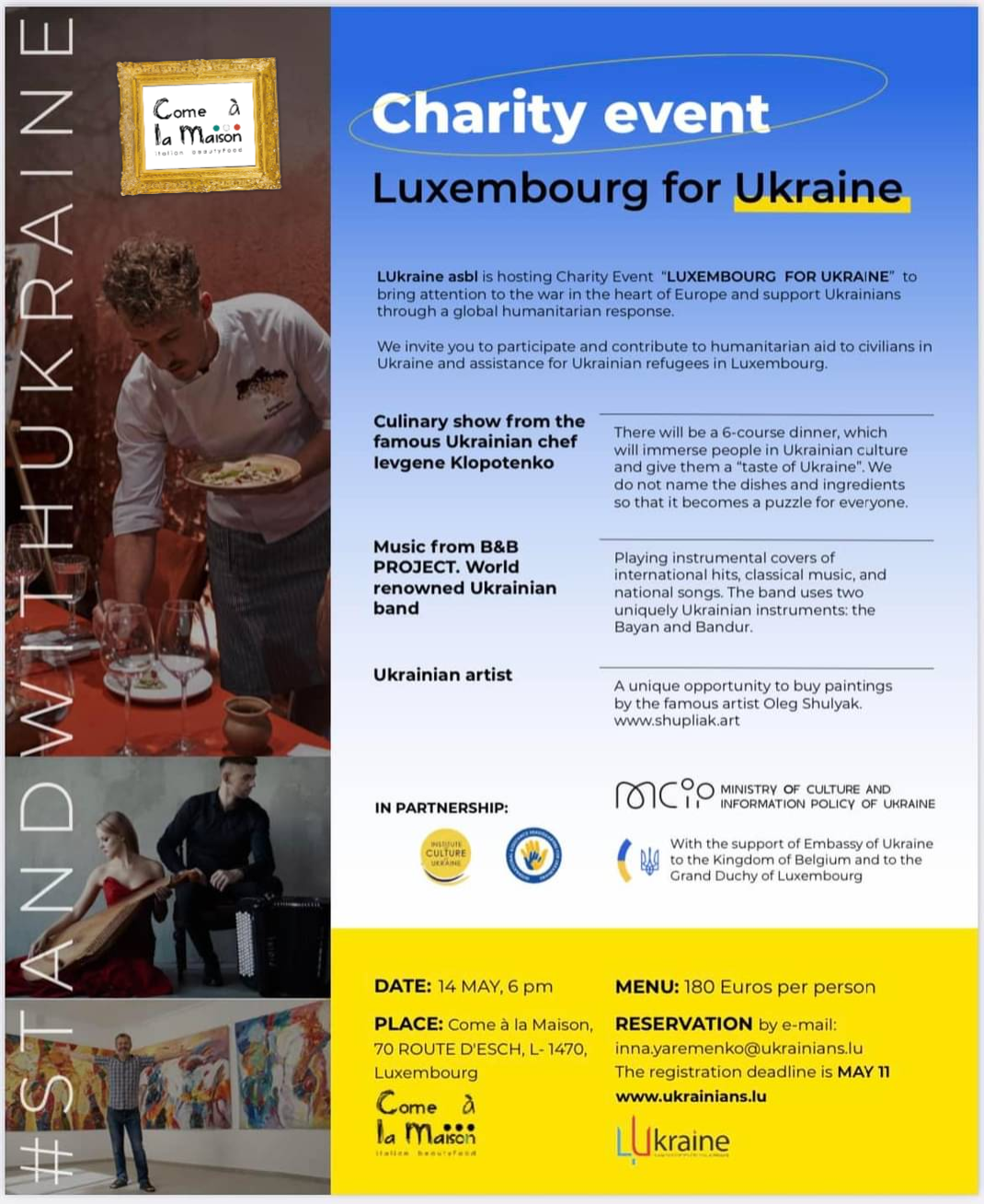 « Luxembourg for Ukraine »
Come à la Maison and LUkraine asbl is hosting Charity Event "LUXEMBOURG FOR UKRAINE" to bring attention to the war in the heart of Europe and support Ukrainians through a global humanitarian response.
The event would be performance-based.*Culinary show from the famous Ukrainian chef Ievgene Klopotenko
—-
(Menu: 180 EUR)*Live Performance by B&B project, Ukrainian musicians who popularize folk instruments.
Amuse-bouche 1
Frozen olive oil and different marmalades
Amuse-bouche 2
Borscht
PLATS
1. Pike perch marinated in mint with beetroot fresh juice and white chocolate muss (based on pork fat)
2. Parnsip with smoked sour cream and blackberry jam with pepper
3. Galyshki with cherries and meat cooked in kvas
Kvas:
4. Chomber meat with herring and carrot pure
5. Gamyla dessert or meat and chocolate
— 
*A unique opportunity to buy spectacular illusion paintings by the famous artist Oleg Shupliak.
https://shupliak.art***All profits go to food kits for Ukrainians and UAmbulance project.!!!
LIMITED RESERVATIONS until May 11 par e-mail:
inna.yaremenko@ukrainians.lu
We invite you to participate and contribute to humanitarian aid to civilians in Ukraine and assistance for Ukrainian refugees in Luxembourg!
70 ROUTE D'ESCH // L- 1470 LUXEMBOURG
Ver menos