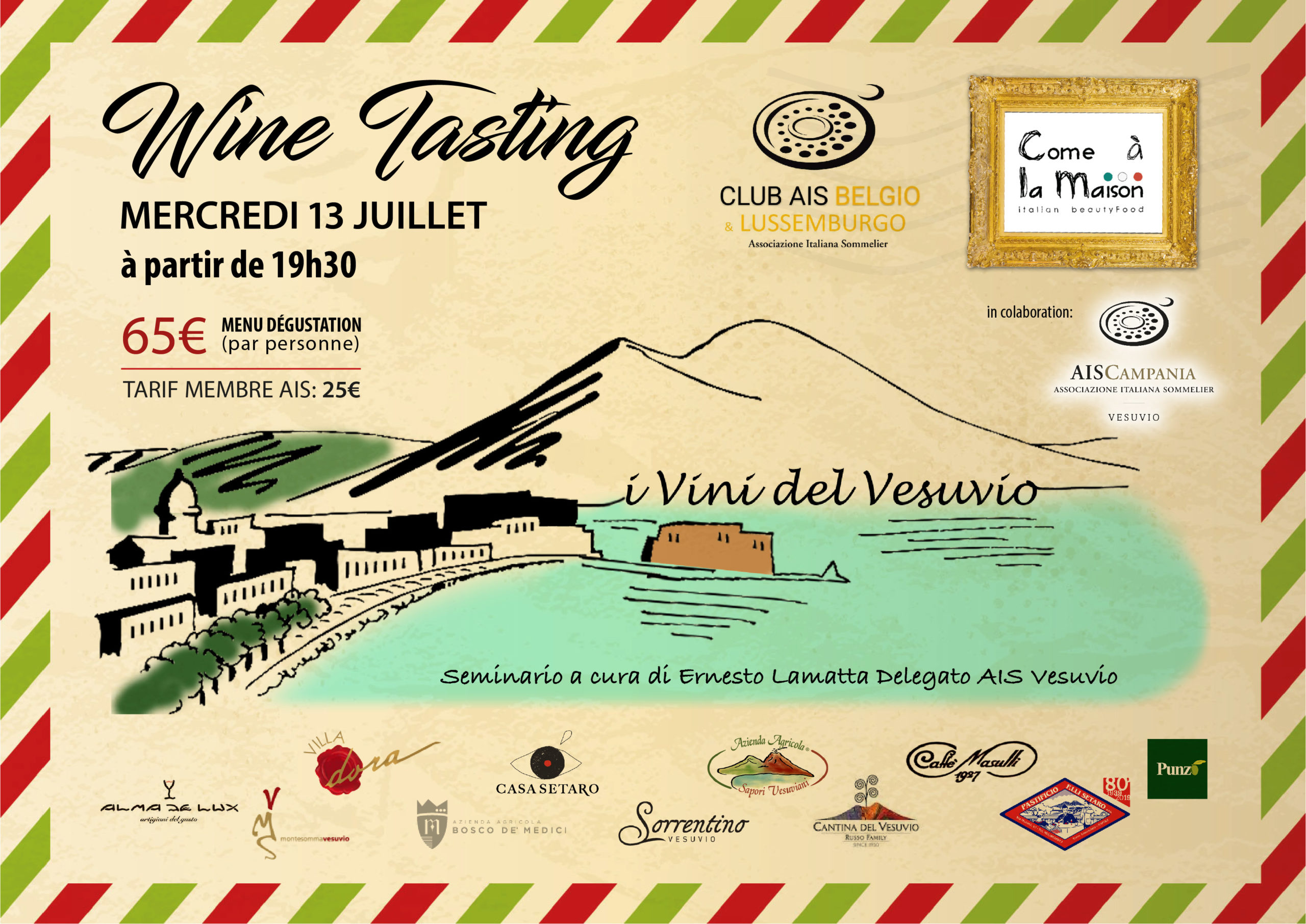 Menu Dégustation: 65€ (par personne)
(Menu Dégustation AIS members: 25€) (par personne)
(Food & Beverage Compris).
(Inscriptions limitées à 70 Participants).

Réservations: (+352) 23 64 11 21

Vesuvio is an active volcano in a state of quiescence since 1944, that rises on the eastern side of Naples, located between the Gulf of Naples, the impetuous chains of the Lattari Mountains and the Irpino Apennine.
It is an ancient caldera of 4 km in diameter, resulting from the eruption of 79 which caused the collapse of the south-eastern flank of Monte Somma
The « Terroir Vesuvio » is traced in many
micro-areas with soils of volcanic matrix, heterogeneously stratified by fallout and flow deposits.
The Vineyards are located on natural slopes, constantly crossed by the sea breeze and with good exposure. The grape varieties,
many of which are historic and bred on ungrafted foot, pre-phylloxera, benefits from ideal microclimate, playing a crucial roles in the final product because the volcanic soils lend structure, longevity and complexity to the vigorous wines.
The seminary is curated by Ernesto Lamatta, AIS Vesuvio Delegate, he will guide the participants to the places where the life stories are intertwined telling ancient legends of Vesuvius, its wines and products.
PRODUCTEURS INVITÉS:
AZIENDA SORRENTINO (Boscotrecase)
Benita 31 Vesuvio Caprettone 2021
Vigna Lapillo Vesuvio Lacryma Christi Rosso 2017
AZIENDA VILLA DORA (Terzigno)
Vigna del Vulcano Vesuvio Lacryma Christi Bianco 2017
Gelsonero Vesuvio Lacryma Christi Rosso 2017
AZIENDA BOSCO DE' MEDICI (Pompei)
Pompeii Pompeiano Rosso 2019
Lavaflava Vesuvio Lacryma Christi Bianco 2019
AZIENDA MONTESOMMAVESUVIO (Pollena Trocchia)
Català Catalanesca del Monte Somma 2021
Trocla Riserva Vesuvio Lacryma Christi Rosso 2017
AZIENDA CASA SETARO (Trecase))
Fuoco Allegro Vesuvio Doc Rosso 2020
Pietrafumante Vesuvio Spumante 2019
AZIENDA CANTINE DEL VESUVIO (Trecase)
Vesuvio Lacryma Christi Bianco Superiore 2020
Vesuvio Lacryma Christi Rosato 2021
SAPORI VESUVIANI (Portici) "Pomodorino del Piennolo"
AZIENDA CAFFÈ MASULLI (Somma Vesuviana) "Panettone Pellecchiella"
AZIENDA OLEIFICIO PUNZO (Pollena Trocchia)
Olio extra vergine bio
AZIENDA PASTIFICIO SETARO (Torre del Annunziata) « Pasta mezzo pacchero »
AZIENDA ALMA DE LUX (San giorgio a Cremano) « Liquore al pomodoro del Piennolo »
Lire la suite